Beginners Guide to Kitchen Renovation Projects
One of the most common home renovation projects is a kitchen remodel. The kitchen is the heart of the home — where you prepare delicious meals and gather with loved ones. If you've been living in your home for a while or you've recently purchased a home, you may want to remodel your kitchen.
Remodeling your kitchen will tailor your space to your needs, but you'll need to know how to go about it and how to pay for it.

What to Consider Before a Kitchen Renovation
Before beginning a kitchen renovation project, there are a few considerations to make regarding functionality and design:
Who uses the kitchen: Take the preferences of your household's primary cook into consideration, prioritizing whoever uses the kitchen the most. Your kitchen should cater to their needs for storage and appliance accessibility along with counter height. If you usually cook together, you may want a kitchen with plenty of prep space so you won't be bumping into each other.
What you want to change: Consider what you don't like about your current kitchen and what you'd like to change. For example, maybe you want to add more storage, obtain larger appliances, or adjust the color scheme. List the reasons you want to renovate your kitchen and every issue you'd like to address, along with any new functions and features you want to implement.
What you use the kitchen for: Do you use the kitchen exclusively for cooking, or is it a space where your family gathers to chat about your day or to enjoy a meal at the table? Are you a passionate baker or an occasional chef? Consider how you want to use your kitchen to determine what countertop space and seating you need.
Which appliances you want:You'll likely want a refrigerator, oven, microwave and dishwasher, along with smaller appliances you can easily move and store. Consider whether you want a combination fridge and freezer or if you'd prefer a separate freezer in another room, along with whether you'd like a built-in or freestanding oven. You may even want two ovens instead of one. With a built-in oven, you should also consider what type of cooktop you want — induction, ceramic or gas.
6 Steps to Remodel Your Kitchen
As with any home renovation project, there are certain steps to take when remodeling your kitchen. These steps require patience and careful planning, so you should know exactly what to expect before you dive in.
1. Sketch out Your Kitchen Remodel
First, determine what you want your kitchen renovation to include. Browse home improvement websites and Pinterest boards, saving ideas as you do your research. Viewing a variety of designs and layouts can help you choose the materials, textures, and fixtures you want. Once you determine how your new kitchen will be used, you can find a design that will meet the needs of your floor plan.

After you've gathered some ideas, you can sketch an outline of your kitchen remodel. Figure out the room's layout, identifying where your appliances and kitchen island will be located and how much space you want between your cabinets. Whether you plan to do it yourself or hire contractors, you need a sketch to show the scope of the work. This sketch can also help you estimate the project's cost.
2. Choose a Timeline and Budget
Next, estimate how much your renovation project will cost and how much time the project will take to complete. Doing a little research can help you make this estimate. Keep in mind that it can be difficult to determine a kitchen renovation's total cost early in the process, but you can identify a maximum amount you're willing or able to spend.
The timeline of a remodel can vary depending on several factors like the scope of the work, the size of the kitchen, and the contractors you're working with. Likely, you can expect your project to take anywhere from a few weeks to a few months to complete.
3. Contact the Professionals
To find the right professionals for your unique design and needs, consult your friends and colleagues and do some research. Visit showrooms and big box stores to examine the materials available for your project. Along the way, you may even be able to gather a few referrals.
After you have finalized your overall design, layout, and budget, now is the time to contact a licensed contractor. You may want to get a few estimates from professionals that include timetables for project completion. With every potential contractor, do a walkaround to cover each aspect of the kitchen renovation and determine whether you may need to adjust your budget. Before you sign an agreement, write a checklist of steps to take when hiring a contractor and ask every question you have.
Even for an inexpensive, DIY renovation project, be wary of low bids that seem too good to be true, as a low estimate may be an indication that a contractor is planning to use low-quality materials for your project. After you select a contractor for your renovation project, develop a contract to outline the payment schedule and scope of the work. Typically, payment schedules will require you to make payments upfront, at intervals during the project and upon project completion.
4. Prepare for Demolition Day
Once the design is finalized, the paperwork is approved and the crew is ready, you can begin tearing down the room and start rebuilding your dream kitchen. When the demolition starts, you may choose to leave or remain in your home. If you plan on staying in your home, you'll want to plan ahead by:
Storing perishables in a mini-fridge
Setting up a temporary kitchen elsewhere
Bringing the essential appliances for cooking small meals, such as a microwave or toaster oven
Ensuring you have enough space to prepare small meals
Stocking up on plastic cups, plastic silverware, and paper plates
Keeping non-perishable items handy, such as crackers, snack bars, and peanut butter
Whether you're gutting the entire kitchen or simply tearing out cabinets, you should make plans regarding cleanup before the start of your kitchen remodel. Clear out the cabinets, remove extra furniture like tables and chairs, and move or clean out your fridge.
5. Reorganize Your New Kitchen
After the hard work of rebuilding your kitchen is completed, it's time to put your new kitchen together. Hire a professional to finish configuring the electrical and plumbing if necessary. If you are changing the color scheme, paint the walls and install new flooring. Then add your kitchen cabinets, install the countertops, place your large appliances in the proper locations, fasten the cabinet hardware, and put in the backsplash.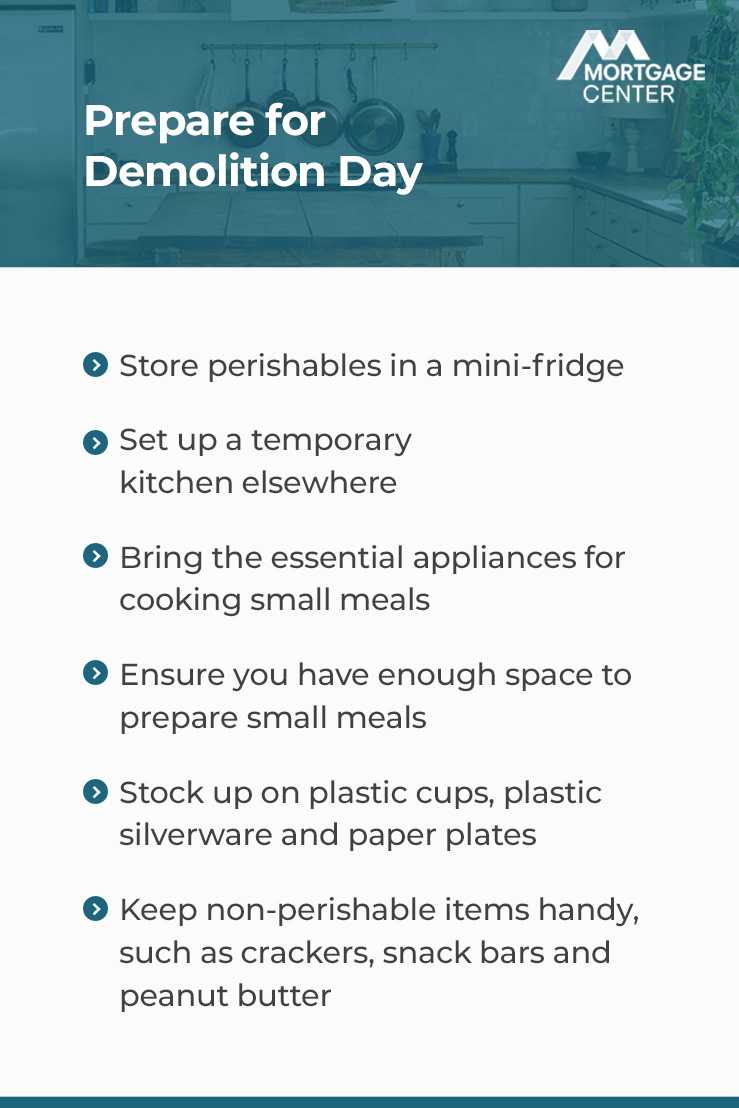 If your contractor and other professionals handled those steps, all you'll have to do is return your food and kitchen items to their new home.
6. Enjoy Your New Kitchen
Finally, check off all the completed project items and complete any other tasks that still need attention. If you're working with a contractor, ensure that everything included in the contract has been fulfilled before you submit the final payment. Once that's done, you can start using your new kitchen.
Important Factors to Keep in Mind When Renovating Your Kitchen
Updating your kitchen makes cooking and mealtime more pleasant and functional, and it can add value to your home. Though the renovation process can be overwhelming, there are a few key factors you can keep in mind to ensure a quick, successful kitchen remodel:
Layout: Some of your kitchen walls are load-bearing, so be aware of your layout when you plan on opening up your space. Identify which walls can and can't be removed with help from a professional. Even structural walls can be removed, and large appliances and fixtures like the fridge, stove and sink can be moved. Keep in mind that venting, electricity and plumbing can add more costs and time to your project, but it may be the best step to take for your kitchen renovation.
Lighting: Lighting is key in the kitchen. You need to consider which types of lights you want in your kitchen, and you should also determine the ideal locations of these lights. Many homeowners are now choosing under-cabinet lights to help illuminate tasks. You can also select recessed lighting for a simple way to add lots of light to your space. Keep natural light in mind, as well, whether you'll be adding windows or getting larger ones.
Flooring: The right flooring will be beautiful and practical, but there are a few factors to keep in mind if you're laying new flooring. For example, switching to tile from vinyl flooring may lead to elevation issues and you may need plywood as a subfloor. If you will not be changing the flooring but you are changing the layout, make sure the flooring runs under appliances and cabinets.
Ventilation:If you plan on relocating your cooktop, keep ventilation in mind. Even if building codes do not require that a range hood be ducted to the outside, most experts recommend a range hood for ventilation. To be the most effective, duct runs should be as straight and short as possible.
Kitchen island:If your new kitchen will be big enough to fit an island, it can be a great item to install. You'll want a few feet of space around every side of the island. There may also be some codes to meet for the installation of a kitchen island, such as a requirement regarding electrical outlets. If your kitchen island will have heavy counter materials like stone, your contractor may check that your kitchen floor can support the weight.
Project schedule:Ensure you stick to the project schedule, which means having the major components ready or ordered before the start, such as cabinets, appliances and plumbing fixtures. Schedule the subcontractors like the electrician and plumber in advance because you will have to juggle their schedules with your project timeline. Working with a contractor that organizes every step of the process can make this easier.
Codes for electrical work:Though you may be able to do the electrical work yourself, you are not exempt from code requirements. Common violations of electrical codes by DIYers in the kitchen include not providing the required appliance circuits, not using a ground-fault circuit interrupter (GFCI) to protect countertop circuits, and not installing the minimum number of required outlets along the counter.

How to Afford a Kitchen Remodel
If you can't afford a kitchen remodel with your savings, you can apply for financing. Renovation loan options for an affordable kitchen renovation include home equity loans, cash-out refinances, and construction loans.
Home Equity Loan
A home equity loan for renovations is a common option for financing home improvement projects like kitchen remodels. A home equity loan for home projects is best for homeowners who already have equity built into the home from years of making payments on the mortgage.
If you've bought your home recently, you may not have enough equity available to finance your renovation project. A home equity loan may also limit your borrowing power, so you may not get all the financing you need. If you haven't lived in your home for long and don't have much equity to leverage, there are other financing options available to you.
Cash-Out Refinance
A cash-out refinance for renovations is another financing option. These loans replace your current mortgage with a new home loan for an amount greater than what you currently owe. You can then use the difference in cash to pay for your kitchen remodel. Kitchen renovation refinancing can make sense if you can get a lower interest rate and use the cash to cover the home improvements.
Cash-out refinances are a low-rate, low-fee loan that can be used for making a big purchase, adding to your savings or making home improvements.
Home Renovation Loan
A home renovation loan is specifically for homebuyers who are looking to purchase a fixer-upper. With this loan option, you can make the desired updates without taking out a second home loan. Instead, you combine the improvements you'll be making into your mortgage.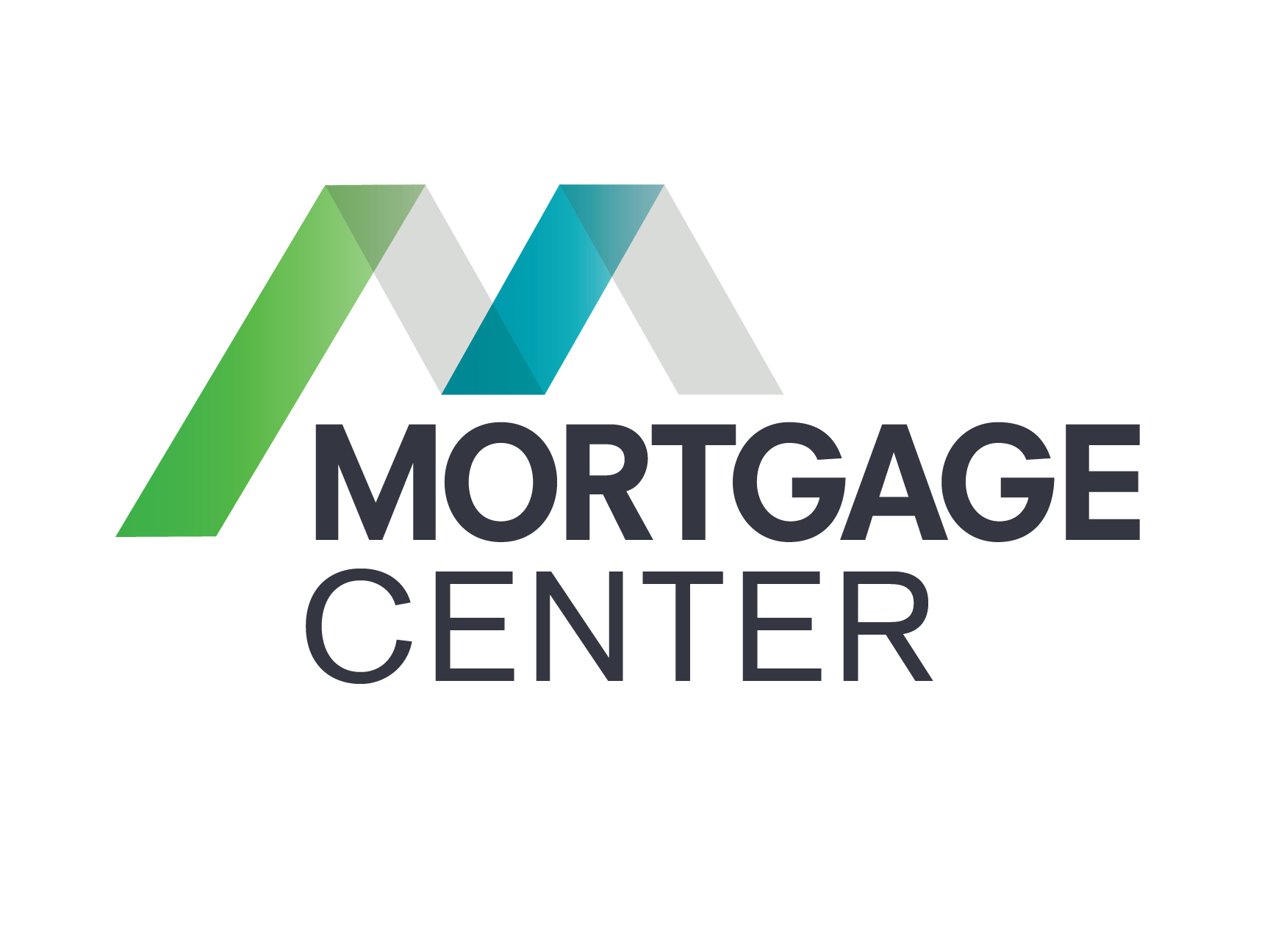 Mortgage Center has been working with credit unions, their members, and home loan borrowers since 1990 with the goal of growing the credit union community. They have over 100 experienced home loan experts who are guided by the core values of the company. Mortgage Center is completely owned by credit unions which means their rates and closing costs remain competitively low, keeping more cash in members' pockets while generating revenue for the credit union community. Start a mortgage application with us today!
« Return to "Financial Resources & Blog"